The US equities markets had a roller coaster ride last week. Big upswings in the US equities markets Monday and a decent move lower in the US yields (led by the back end). However, the market took a big downturn on Tuesday and Wednesday.
On Friday, however, the markets reversed course with a squeeze higher in US equities and a move lower in US yields. It's not clear what the catalyst was for this reversal.
Despite the wide disparity in yields, even a small move lower in yields can start a short-term squeeze in tech stocks.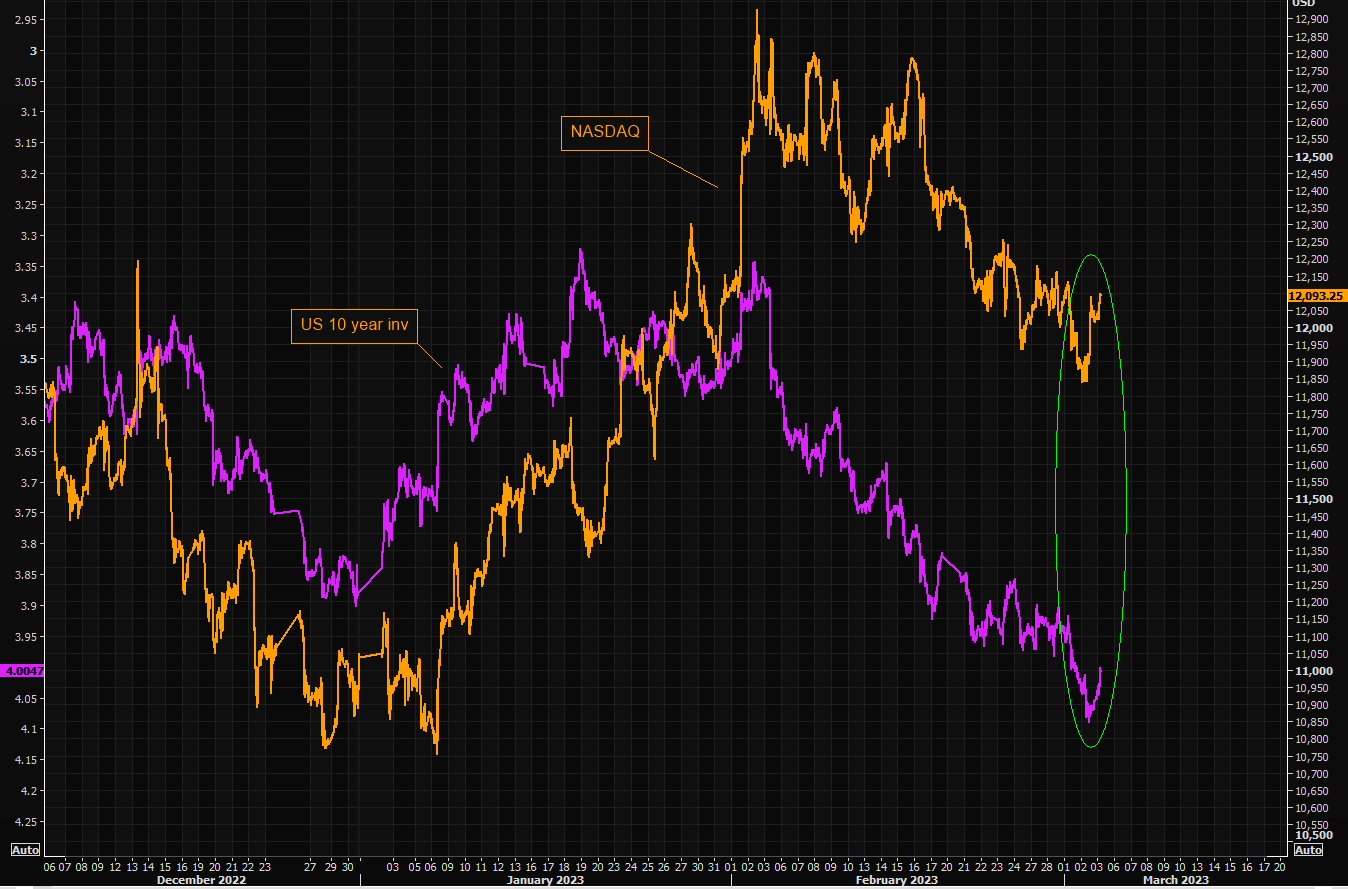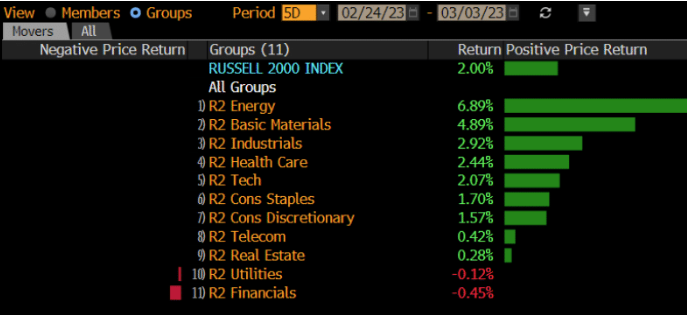 Aside from Bostic's comments late Thursday (however, after the market had already moved fairly significantly) provided the first reassuring sign that the base case may well still be 25bps in the months ahead
Note; This time, I keep the newsletter just to quickly update and keep you all informed about what is to come this week.
---
Powell Speech, Payroll Reports to Shape Market's 50bps
However, as of right now, the market is now pricing in a decent possibility of 50bps in March
This week we will see some critical events that will help shape where the markets go. On Tuesday (tomorrow), we have Jerome Powell talking shit again. All eyes will be on whether he pushes back against the market's expectation of 50bps in March.
At the end of the week, we have the all-important payroll reports (it's all so tiresome), which can better indicate the US growth outlook.
Expectations from institutions is a headline of 250k, in line with the market's expectation of 215k, with the unemployment rate at 3.4% and the average Hourly Earnings at 0.3% month-on-month and 4.75% year-on-year.  
Also, Goldman Sachs estimates +200k
---
Governor Kuroda's Last Meeting: Impact on Japan's Economy
The Bank of Japan and Governor Kuroda's last meeting is at the end of the week. A lot of speculations and expectations for the future. Many think this meeting will likely be uneventful because it's close to the fiscal year.
The government and the Bank of Japan want to avoid making changes that can impact the bonds, forex, and equity markets.
There's still some risk of a "pass-the-baton" scenario where Governor Kurudo has to take responsibility for cleaning up the legacy YCC (Yield Curve Control) policy and lessen the burden on his successors, potentially causing tweaks to YCC.
There were some limited flows with an uptick of interesting USDJPY downside, potentially as a hedge for a "you never know" scenario.  
It's yet to be seen if the Bank of Japan and Kurdo's last meeting will impact these negotiations, but it will be an important moment in Japan's economic history.
---
Events this week
Tuesday, March 7
Wednesday, March 8:
ADP employment report
Trade balance
JOLTS job openings
Powell Speaks shit again
Thursday, March 9
Initial jobless claim
Fed Vice Chair for Supervision Barr speaks
Friday, March 10
Nonfarm payroll employment
Private payroll employment
Average hourly earnings month over month and year over year
Unemployment rate
Labor force participation rate
Nonfarm payrolls are a key indicator of the strength of the U.S. labor market. They track the number of people employed by businesses outside the agricultural sector and can be used to gauge the overall level of economic activity.
That was an oversimplified explanation of Nonfarm payrolls
Based on Goldman Sachs estimates, they expect non-farm payrolls to increase by 250k.
Historically, job growth trends remain strong in February due to the tighter labor market that comes with seasonal hiring. During the month, big data employment indicators such as job posting, hiring activity, and wage growth were all strong.
So I think further employment growth shouldn't come as a surprise. We can expect resilient US labor demand to offset weak layoffs in the information sector.
This is likely due to firms initiating spring hiring earlier in the month due to the tight labor market.
Moreover, data from Big Data employment indicators were strong in February. Furthermore, they expect that the overall high labor demand in the US will more than makeup for any rebound in layoffs in the Information sector.

PrimeXBT (If you're looking to execute trades)
If you're looking into trying to trade Forex, US equities markets, commodities, and CFDs. You should check out PrimeXBT.
PrimeXBT is a crypto-based platform that enables traders to access multiple assets and markets, including cryptocurrencies, stocks, commodities, CFDs, and forex.
PrimeXBT is an online broker that allows traders to trade with leveraged trading, offering up to 1:1000.
With PrimeXBT, traders can open and close positions quickly.
The minimum deposit is about $10, and no KYC is required. PrimeXBT users can buy Bitcoin, USDT, and USDC using a credit card in the client dashboard.
I have been using PrimeXBT to test out, as I've been looking for a broker to trade the SPX500, Forex, and commodities.
Here is my advice, as I've been testing. I prefer not to use Bitcoin as my collateral but instead USDT or USDC.
As bitcoin can be volatile and correlated, your collateral can go down as bitcoin goes down, so risky business. That's why I prefer using stablecoins as collateral.
Make sure to fund either the USDT or USDC instead of margin BTC.

When you're using stablecoins as collateral, it's easier to place a stoploss and see how much you will be losing. This might be slightly off due to spread etc.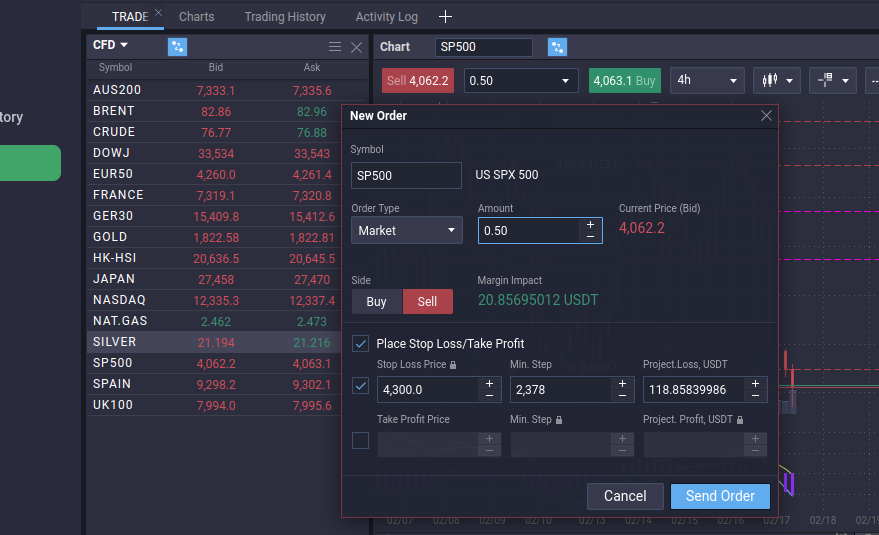 When having a position open, it looks like this.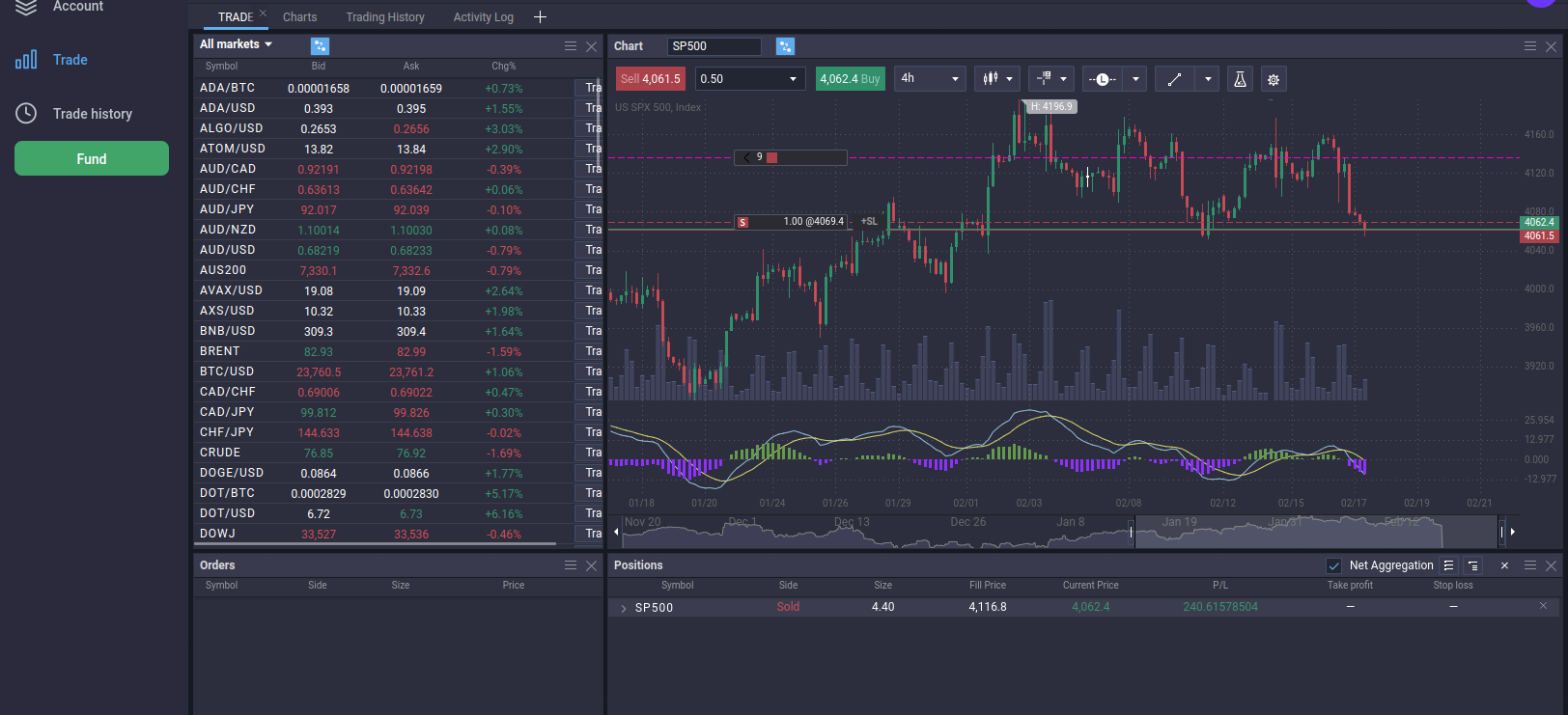 I used multiple orders over a few days, and you can close each trade if you like by pressing the "x" button.

So if you've been following my newsletter for a while, you know I cover legacy markets, options, cryptocurrency, Forex, commodities, etc.
Many of you haven't been able to profit due to not having access to trading stocks/CFDs/commodities.
I suggest trying out PrimeXBT; I have heard about positive experiences with PrimeXBT from other traders.

My referral link for PrimeXBT: https://u.primexbt.com/rnr
Depending on the deposit amount, you can receive up to a $7000 bonus when registering with my referral link. Note that's the maximum bonus.
Promo code: rnr
I recommend creating an account and playing with $300 - $500 or an amount you don't care too much about just to practice first.
Don't take it too seriously, as you're just practicing. It's important to also look at legacy markets since everything is connected.  
---
Newsletter Premium Subscription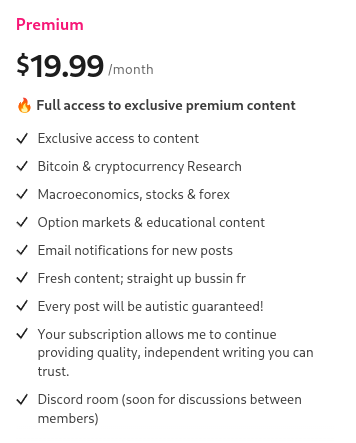 Premium subscription
Tired of seeing low-effort content on Twitter with random people posting lines on a chart?
Maybe subscribing to this newsletter is something for you to gain an edge over the market.
Also, read my free medium articles: https://medium.com/@romanornr/
Full access to exclusive premium content
Subscribe, and get a competitive edge over the market.
Take the first step to kick your wife's boyfriend out of the house & stop getting liquidated.
Subscribe
---
Blockwallet
I've been recommending Blockwallet in several tweets.
I made the switch from Metamask to Blockwallet.
The user interface and functions are much better; it works better with my Trezor and switching between accounts. Extra privacy, flash bot protection & anti-phishing. You can also import your Metamask seed, etc.
However, I've seen one of their latest tweets, BlockWallet has a token called "BLANK"
If I were a betting man, which I am. I will assume that Blockwallet users are eligible for a nice airdrop. I would recommend installing Blockwallet and making some transactions.
You can export your Metamask seed and import it into Blockwallet. As some people think, there's no need to reshuffle your assets. Some people don't want to make the switch because Blockwallet has no mobile app right now. It doesn't matter. You can install Metamask or 1inch wallet on your phone and import your seed on your mobile wallet, which is not Blockwallet.
Chrome extension link: https://chrome.google.com/webstore/detail/blockwallet/bop
Reminder Apex incentive program, which pays you to trade and keep tour trade open, is ongoing.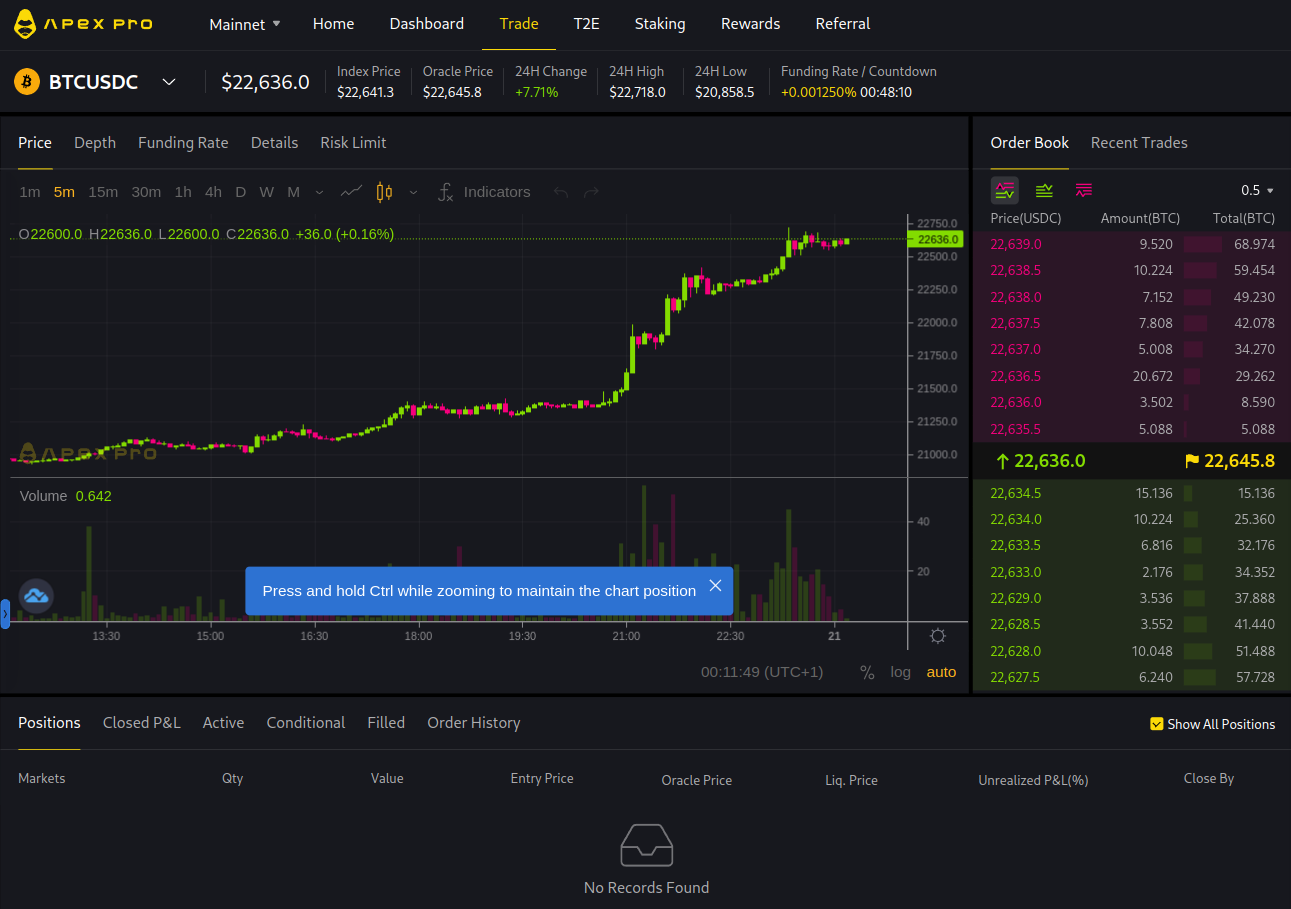 If you need a referral link: https://pro.apex.exchange/trade/BTC-USDC/register?affiliate_id=46&group_id=83
My referral code is: 46
In my opinion, this is the best DEX for trading bitcoin futures.
They also have a mobile app, Android:
Also, an app for iPhone
Ref code = 46
---
Become an affiliate of this newsletter.
Receive 50% of the recurring commission every month
Basically, you get a revenue split, which seems fair to me, as compensation for promoting/sharing the newsletter with others.
Payouts can be in crypto or through a bank.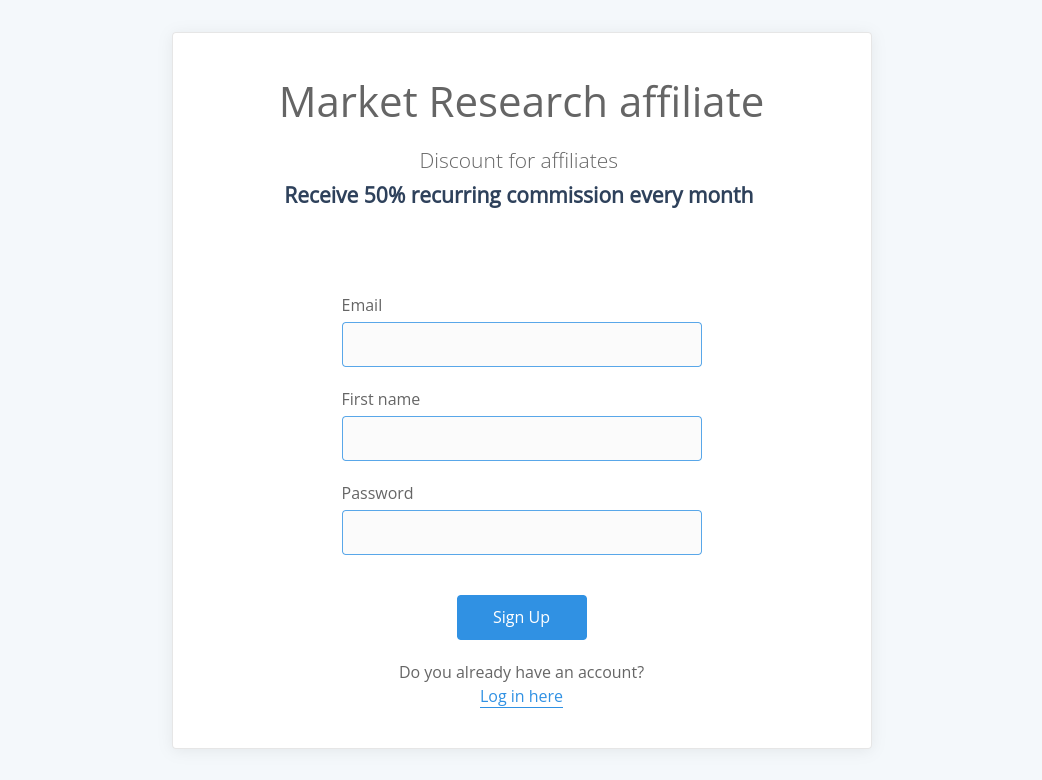 Newsletter affiliate
Receive 50% of the recurring commission every month
Basically, you get a revenue split, which seems fair to me as compensation for promoting/sharing the newsletter with others.
Sign up