newsletter
FX: Dollar downtrend pause & EURUSD forecast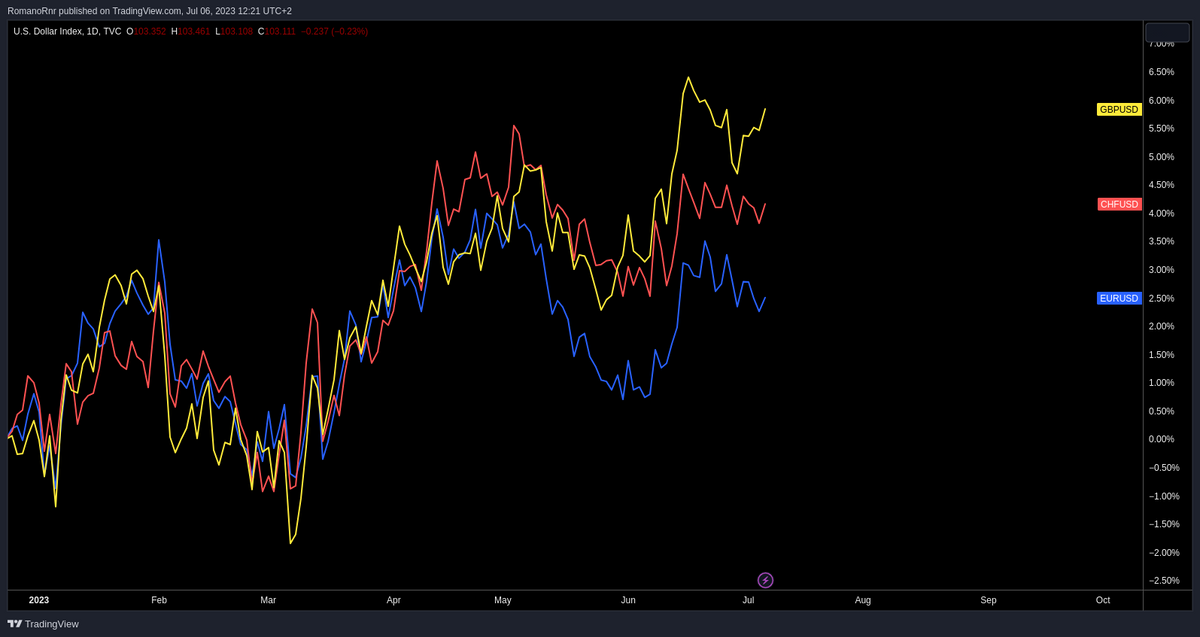 Since the beginning of the year, the dollar has been losing strength against other significant currencies. This is primarily due to investors' belief that the Federal Reserve will need to lower interest rates to stimulate the sluggish U.S. economy or provide it with some form of support.
Investors speculate that the slowing inflation would lead the Federal Reserve to turn dovish.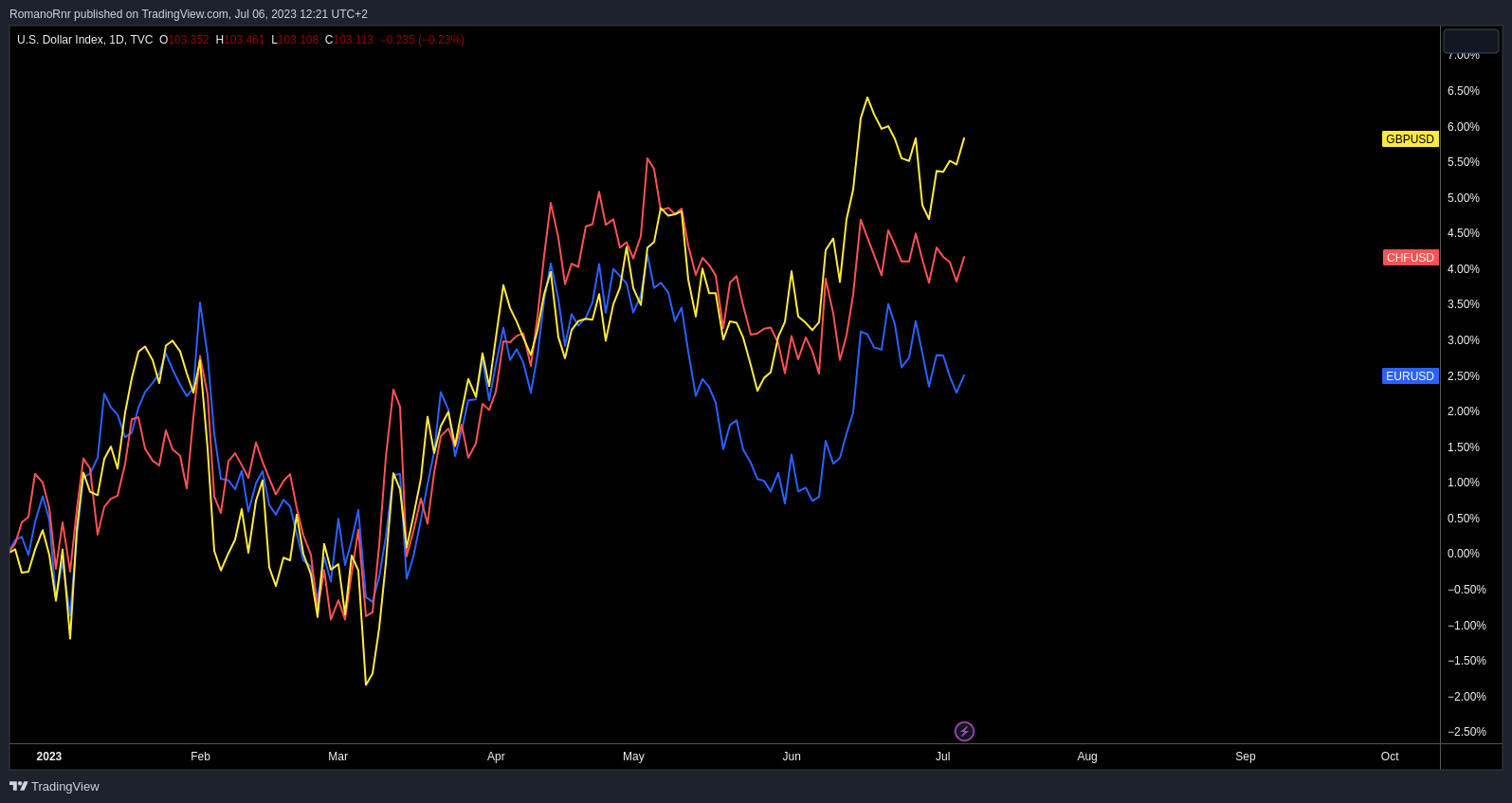 However, the fall in the dollar has paused in recent weeks as the Federal Reserve has signaled that they're not in a hurry to easy monetary policy. They're confident about the economic outlook. That has boosted short-term US interest rates, which tend to move in tandem with the dollar.
---
ECB's Hawkish Stance
In contrast to the Federal Reserve, The ECB (European Central Bank) has shown a "hawkish" monetary policy stance. They have raised interest rates to control inflation and have maintained a cautious approach toward future inflation risk.
Higher interest rates in the Eurozone make the Euro more attractive, supporting the Euro against the dollar. However, the market has already priced in the ECB's hawkishness. So we can't expect "that much" more moves to the upside in EUR/USD.
Before continuing to read, subscribe to the premium newsletter. The premium package also includes full access to my Discord.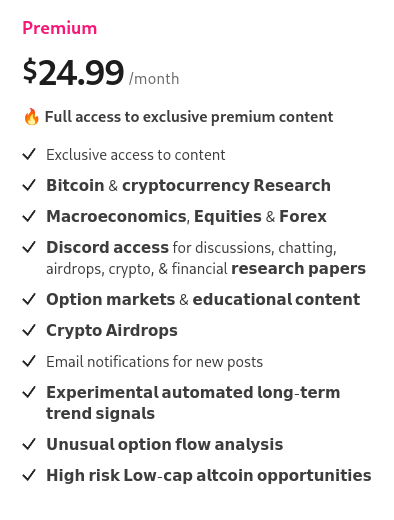 Exclusive access to Discord access & premium content
Subscribe
The low price of $24.99 won't stay forever
Anyways you can continue to read further. The article does NOT stop here.
---
EURUSD
I assume that the dollar decline will resume later this year, as the Federal Reserve will eventually have to acknowledge the worsening economic situation and cut interest rates more aggressively than currently expected.
Tbat will lower US interest rates and weaken the dollar. Meanwhile, the ECB will have less scope to raise interest rates further.
As inflation pressures in the eurozone will ease and growth will slow. This will narrow the interest rate differential between the US and the eurozone and strengthen the euro against the dollar.
Expect EUR/USD to trade sideways in a range of 1.08 - 1.10 this summer before breaking higher to 1.15 by the end of the year as the dollar downtrend continues.
---
Discord
Are you a premium member of the newsletter but still didn't join Discord?
Join Discord to get the full value out of the newsletter. There's no extra cost associated for Discord. It's included all service ;)
Yes, options data such as dark pools, unusual flow, etc is also included.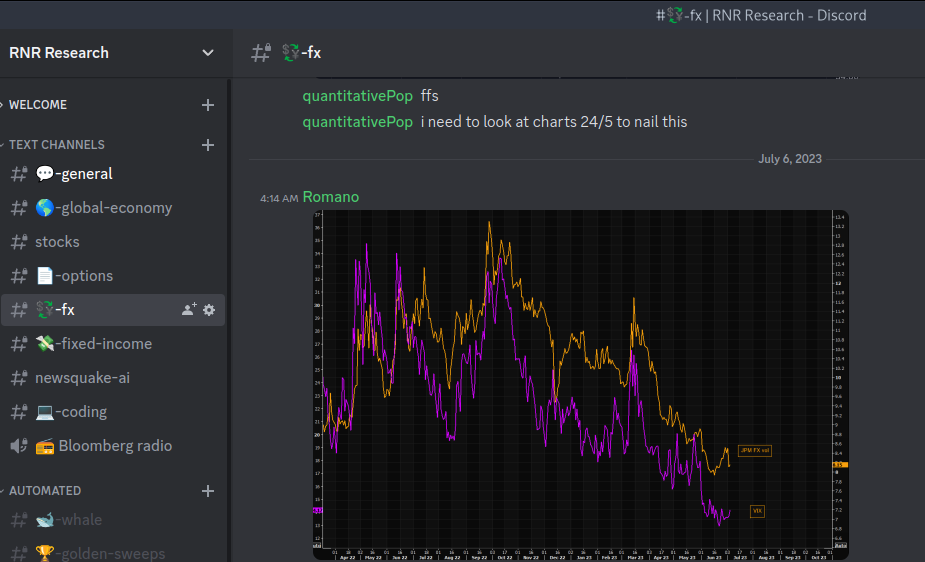 ---
EURUSD Model
According to this model, EUR/USD is around 9-10% undervalued in real terms, which suggests the current medium-term fair value for the pair could be close to parity.
[This part is for premium members of the newsletter. The membership also includes Discord access]